Description
Headphones AKG Y50BT On-Ear for Smartphone /Devices
12mm Speaker Units deliver high-quality, clear sound

Dual-Mic Noise Reduction and Echo Cancellation reduce outside sound interference and feedback during calls

Magnetic ear buds for convenient wear when not in use

Battery Life up to 11 hours talk/10 hours play/ 500 hours standby

TROUBLESHOOTING:Refer page15 in the user manual attached in this page for troubleshooting support.
Legendary AKG sound
A clear, word-class and award winning acoustic signature that will take your musical enjoyment and appreciation to new levels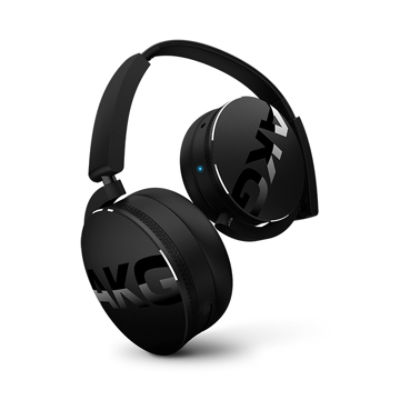 Bluetooth enabled for music and calls.
Pursue your passions wirelessly and easily, with ear-cup mounted controls.
More than 20 hours battery life
The music never stops. The Y50BT works with a by-pass cable that allows you to enjoy your favorite jams even if you run out of battery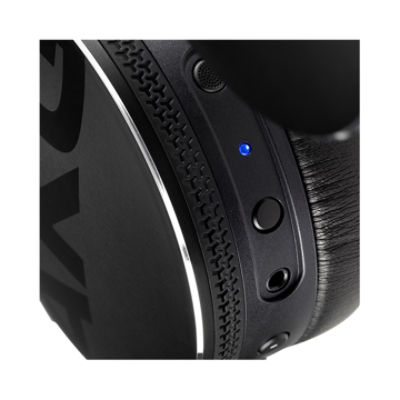 Product Features:
Cable Type

1.2m detachable audio cable

Smartphone compatibility

Galaxy S8+, Galaxy S8, Galaxy S8 Active

Included in Box

AKG Y50BT on-Ear Headphones
By-pass 1.2 m Detachable cable
Micro USB charging cable
Carrying Pouch

Type

Headphones & Headsets

Connectivity

Bluetooth 3.0, Jack 3.5mm

All Bluetooth Enabled Devices
Compatible with most Bluetooth devices
ALCATEL ONE TOUCH C1, ONE TOUCH EVOLVE 2, ONE TOUCH FIERCE, ONE TOUCH FIERCE 2, ONE TOUCH POP MEGA, ONE TOUCH POP STAR, ONE TOUCH RETRO, SPARQ 2, ONE TOUCH POP 7, ONE TOUCH POP ASTRO, ONE TOUCH IDOL 3, ONE TOUCH ELEVATE, ONE TOUCH CONQUEST, ONE TOUCH FIERCE XL, FIERCE 4, ALLURA, POP 4 PLUS, IDEAL, STREAK, IDEAL,STREAK, FIERCE 4, ALLURA, POP 4 , DAWN, TRU, IDOL 4S, A30 TABLET 8 INCH, PULSEMIX, ONE TOUCH FLINT, A30 FIERCE
AMAZON FIRE, , KINDLE, FIRE HD 6, FIRE HD 7, KINDLE FIRE HDX 7, KNDLE PAPERWHITE, KINDLE VOYAGE, KINDLE FIRE HDX 8.9
APPLE IPHONE 4, IPHONE 4S, IPHONE 5, IPHONE 5C, IPHONE 5S, IPHONE 6, IPHONE 6S, IPHONE 6S PLUS, IPHONE 6, IPHONE 6S, IPHONE 6 PLUS, IPAD MINI, IPAD MINI 2, IPAD MINI 2, IPAD MINI 3, IPAD MINI 4, IPAD, IPAD 2, IPAD 3, IPAD 4,IPAD AIR, IPAD AIR 2, IPOD TOUCH, IPOD TOUCH 2, IPOD TOUCH 3, IPOD TOUCH 4, IPOD TOUCH 5, IPOD TOUCH 6, IPHONE SE, IPAD PRO 9.7, IPHONE 7, IPHONE 7 PLUS, IPAD, IPAD, IPAD 9.7 2017, IPAD PRO 12.9 2017, IPAD PRO 10.5, PRO 12.9 IPAD
ASUS ZENPAD Z8, ZENPAD Z10, ZENFONE AR
BLACKBERRY Z10, Q10, ARISTO, PASSPORT, CLASSIC, PRIV, KEYONE, KEYONE
COOLPAD CATALYST, DEFIANT
GOOGLE NEXUS 8, PIXEL, PIXEL XL
HTC DESIRE 510, DESIRE 601, DESIRE 610, DESIRE 612, DESIRE 816, DESIRE EYE, ONE E8, ONE M8, ONE M8 MINI, ONE M9, ONE REMIX, ONE, M7, DESIRE 526, DESIRE 626S, DESIRE 626, DESIRE 520, ONE A9, 10, DESIRE 530, BOLT, BOLT, DESIRE 512, U11, DESIRE 55
HUAWEI ASCEND MATE 2, FUSION 3, TRIBUTE, VISION 2, SNAPTO, P8 LITE, NEXUS 6P, UNION, HONOR 5X
KYOCERA BRIGADIER, BRIO, EVENT, COAST, KONA, DURA XT, DURAPRO, DURA XV, DURA XA, DURAFORCE, DURAPLUS, TORQUE, HYDRO LIFE, HYDRO VIBE, HYDRO XTRM, RISE, VERVE, CONTACT, RALLY, HYDRO WAVE, DURAFORCE XD, DURAXTP, HYDRO VIEW, DURAXE, DURA XV PLUS, HYDRO REACH, DURAFORCE PRO, DURAFORCE PRO, HYDRO AIR
LG ASPIRE, XPRESSION, COSMOS 2, ENACT, EXALT, EXTRAVERT 2, G FLEX, G FLEX 2, G VISTA, G2 AT&T, G2 SPRINT, G2 T-MOBILE, G2 VERIZON, G3, G3 VIGOR, G4, VOLT, LUCID 3, X5, OPTIMUS F3Q, OPTIMUS F6, OPTIMUS F60, OPTIMUS L70, OPTIMUS L90, OPTIMUS ZONE 2, REVERE 3, TRIBUTE, TRUE, OPTIMUS EXCEED 2, G PAD 8.3 LTE, G PAD 10.1 LTE, G PAD 7.0 LTE, G STYLO, LEON, ESCAPE 2, LOGOS, LANCET, C50V, VOLT, TRIBUTE 2, G PAD 8.0, TERRA, G PAD 7.0, EXALT 2, NEXUS 5X, V10, G VISTA 2, G PAD F 8.0, G PAD X 10.1, G5, TRIBUTE 5, OPTIMUS ZONE 3, K7, G PAD X8.3, K4, OPTIMUS ZONE 3, SPREE, PHOENIX 2, ESCAPE 3, STYLO 2, STYLO 2 V, K8 2016, K8V, X POWER, STYLO 2 PLUS, K10, K10, PHOENIX 2, ESCAPE 3, X POWER, K3 2016, V20, V20, TRIBUTE HD, CLASSIC, XPRESSION 2, ARISTO, K8 2017, FORTUNE, STYLO 3, STYLO 3, PHOENIX 3, PHOENIX 3, G6, K20 PLUS, K20 V, K20 V, HARMONY, B470, STYLO 3 PLUS, X VENTURE, K3 2017, X CHARGE, K20
MICROSOFT UMIA 640, LUMIA 640 XL, LUMIA 735, LUMIA 950, LUMIA 950 XL, LUMIA 550, LUMIA 650
MOTOROLA DROID MAXX, DROID MINI, DROID TURBO, MOTO E, MOTO E 2ND GEN, MOTO G, MOTO G (2ND GEN), MOTO X 2ND GEN, NEXUS 6, DROID RAZR M, MOTO G 3RD GEN, MOTO X PURE EDITION, STYLE, DROID TURBO 2, DROID MAXX 2, MOTO G, MOTO G PLUS, MOTO Z, MOTO Z FORCE, MOTO Z PLAY, MOTO G PLAY, G PLAY DROID, MOTO G4 PLAY, MOTO Z2 PLAY, MOTO Z2 FORCE, MOTO E4, MOTO E4 PLUS
SAMSUNG CONVOY 3, GUSTO 2, JITTERBUG 5, ARRAY, MONTAGE, RUGBY 4, ATIV S NEO, ATIV SE, GALAXY ALPHA, GALAXY AVANT, GALAXY CORE PRIME, GALAXY PREVAIL LTE, GALAXY MEGA 2, GALAXY NOTE 3, GALAXY NOTE EDGE, GALAXY RING, GALAXY S3, GALAXY S4 MINI, GALAXY S4 MINI, I257, GALAXY S4, GALAXY S5, GALAXY S5 ACTIVE, GALAXY S5 MINI, GALAXY S6, GALAXY S6 EDGE, ATIV ODYSSEY, GALAXY LIGHT, TOUCH 3, GALAXY NOTE 10.1, GALAXY TAB S 10.5, GALAXY TAB S 8.4, GALAXY TAB 4 10.1, GALAXY NOTE PRO 12.2, GALAXY TAB 2 10.1, GALAXY NOTE 10.1 2014, GALAXY NOTE LTE 10.1, GALAXY TAB 3 7.0, GALAXY TAB 4 8.0, GALAXY NOTE 4, GALAXY GRAND PRIME, GALAXY S6 ACTIVE, GALAXY J1, GALAXY NOTE 5, GALAXY S6 EDGE PLUS, GALAXY TAB A 8.0, GALAXY TAB A 9.7, GALAXY TAB 3 V, GALAXY TAB E 9.6, GALAXY TAB E 8.0, GALAXY TAB E 10.1, GALAXY S7, GALAXY S7 EDGE, GALAXY J3 2016, GALAXY J3V, GALAXY EXPRESS PRIME, GALAXY TAB S2 9.7, CONVOY 4, GALAXY EXPRESS PRIME, GALAXY AMP PRIME, GALAXY EXPRESS 3, GALAXY AMP 2, GALAXY J7 2016, GALAXY S7 ACTIVE, GALAXY ON5, GALAXY TAB E, GALAXY J3 EMERGE, GALAXY S8, GALAXY S8 PLUS, GALAXY J7 V, GALAXY J7 PERX, GALAXY EXPRESS PRIME 2, GALAXY EXPRESS PRIME 2, GALAXY AMP PRIME 2, GALAXY J3 PRIME, GALAXY J3 ECLIPSE, GALAXY J3 2017, GALAXY J7 PRIME, GALAXY BOOK 12 LTE, GALAXY J3 MISSION, GALAXY J7 2017, GALAXY TAB S3, GALAXY HALO, GALAXY HALO, GALAXY SOL, GALAXY S8 ACTIVE, GALAXY NOTE 8
SONY XPERIA Z1, XPERIA Z1S, XPERIA Z2, XPERIA Z3, XPERIA Z3, COMPACT, XPERIA Z3V, XPERIA Z2 10.1, XPERIA Z4V, XPERIA Z5, XPERIA Z5 COMPACT, XPERIA Z4
VERIZON ELLIPSIS 7, ELLIPSIS 8, ELLIPSIS 10
ZTE AWE, COMPEL, CONCORD 2, ASPECT, GRAND S PRO, GRAND X MAX+, GRAND X, GRAND XMAX, REEF, MAX, VITAL, OVERTURE, QUARTZ, SOLAR, SPEED, WARP SYNC, Z MAX, Z432, Z667, SONATA, IMPERIAL 2, FANFARE, OVERTURE 2, SONATA 2, AXIN A1P, WARP ELITE, OBSIDIAN, ZMAX 2, MAX PLUS, GRAND X 3, AVID PLUS, PRESTIGE, WARP 7, AXON 7 MINI, MAVEN 2, SONATA 3, CITRINE, MAVEN 2, SONATA 3, ZMAX PRO, GRAND X MAX 2, WARP 7, IMPERIAL MAX, TEMPO, BOOST MAX PLUS, AVID TRIO, GRAND X 4, CYMBAL Z-320, PRESTIGE 2, MAX XL, BLADE MAX 3, BLADE X MAX, BLADE SPARK, MAVEN 3, MAVEN 3
Warranty Information
We honor the buyer committed agreement, to see every customer protected by our warranty obligation to you. buyer has up to 90 days from the purchase date to fall under the 90 day protection plan on the items we carry. This warranty covers manufactured defects to item(s) purchased from us. This warranty does not cover misuse, abuse, wear and tear of the item(s) purchase from us.
Additional Details
SKU:

SAMBLUTOTHPRO04

Condition:

New