Description
Skullcandy Inkd In-Ear Wired Headphones Supreme Sound Ink'd 2.0 Mic'd In Ear Headphones With Microphone (Red) For Samsung Galaxy / Motorola / LG/ Zte/ Apple Iphones Smartphones /Devices Etc.
Skullcandy INK'D Earbuds
Skullcandy's INK'D earbuds feature a customizable fit and 11mm speaker drivers that tattoo a user's temporal lobes with full-color sonic art. An inline mic and control switch keeps users in touch with their tunes and the outside world.
Product Features:
11mm drivers with neodymium magnets for full-range sound

1.3-meter nylon braided cable with gold-plated 3.5mm plug

In-ear design allows for passive noise isolation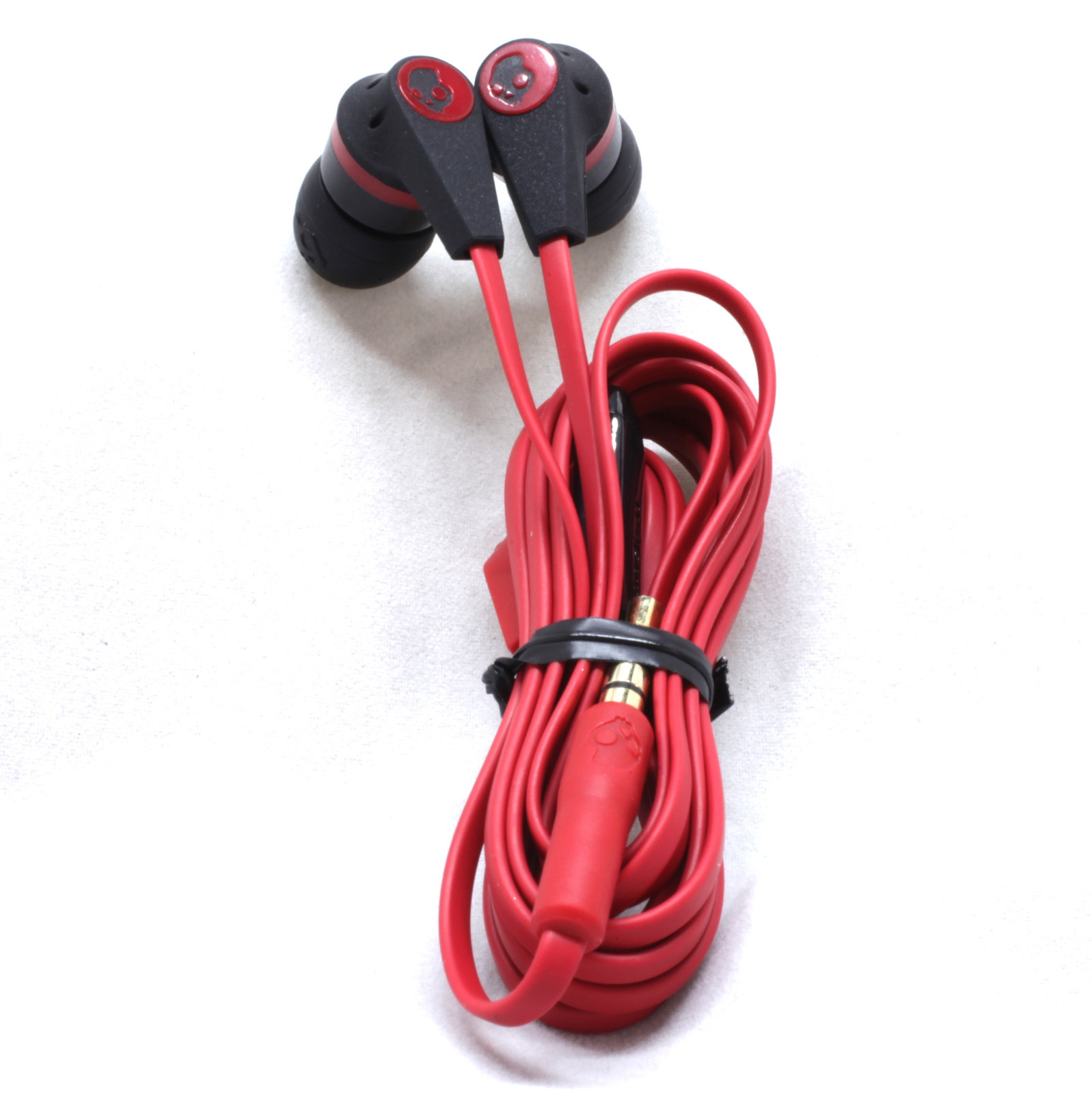 WIRED HANDSFREE

| | |
| --- | --- |
| ALCATEL | ONE TOUCH C1, ONE TOUCH EVOLVE 2, ONE TOUCH FIERCE, ONE TOUCH FIERCE 2, ONE TOUCH POP MEGA, ONE TOUCH POP STAR, ONE TOUCH RETRO, SPARQ 2, ONE TOUCH POP 7, ONE TOUCH POP ASTRO, ONE TOUCH IDOL 3, ONE TOUCH ELEVATE, ONE TOUCH CONQUEST, ONE TOUCH FIERCE XL, FIERCE 4, ALLURA, POP 4 PLUS, IDEAL, STREAK, FIERCE 4, ALLURA, POP 4 , IDEAL,STREAK, ONE TOUCH IDOL 4, DAWN, ONE TOUCH FLING, TRU, CINCH, ONE TOUCH POP 7 LTE, IDOL 4S, GO FLIP, GO FLIP, A30 TABLET 8 INCH, PULSEMIX, ONE TOUCH FLINT, A30 FIERCE |
| AMAZON | FIRE, , KINDLE, FIRE HD 6, FIRE HD 7, KINDLE FIRE HDX 7, KNDLE PAPERWHITE, KINDLE VOYAGE, KINDLE FIRE HDX 8.9 |
| APPLE | IPHONE 4, IPHONE 4S, IPHONE 5, IPHONE 5C, IPHONE 5S, IPHONE 6, IPHONE 6S, IPHONE 6S PLUS, IPHONE 6, IPHONE 6S, IPHONE 6 PLUS, IPAD MINI, IPAD MINI 2, IPAD MINI 2, IPAD MINI 3, IPAD MINI 4, IPAD, IPAD 2, IPAD 3, IPAD 4, IPAD AIR, IPAD AIR 2, IPAD PRO 12.9, IPOD TOUCH, IPOD TOUCH 2, IPOD TOUCH 3, IPOD TOUCH 4, IPOD TOUCH 5, IPOD TOUCH 6, IPHONE SE, IPAD PRO 9.7, IPAD PRO 12.9, IPAD, IPAD, IPAD 9.7 2017, IPAD PRO 12.9 2017, IPAD PRO 10.5 |
| ASUS | ZENPAD Z8, ZENPAD Z10, MEMO PAD 7, ZENFONE AR |